Sink or Swim: Entrepreneurs Learn to Doggy Paddle
What if you were put in an environment where you had to succeed?  Where achieving success was essential to your survival?  This is an environment all too familiar for Laurier alumnus Chris Carmichael – one he purposely puts himself in on a regular basis.
With a 55% average in grade 10 Chris hit a fork in the road.  After seeing Laurier's success competing in the ACE competition Chris was inspired to attend Laurier, specifically for its focus on entrepreneurship.  There was a one problem though; Chris was 31% short of making the acceptance benchmark.
Rather than casting a big net and applying to a handful of universities, Chris decided to only apply to Laurier and Brock.  Full knowing he had no interest in attending Brock Chris left himself with one option – achieve an 86% average by graduation or no university – it was that simple.
To no surprise the pressure to sink or swim forced Chris to learn the doggy paddle and he was accepted into the Laurier Business program.
Not two weeks into class Chris found himself in an all to familiar situation.  With no money to pay for school Chris wasted no time and started his first business, Campus Ink.   All starting with a Facebook page, Chris had students lined up out of his dorm room day after day to refill their ink cartridges.  Forced to make a living off of Campus Ink Chris built an extremely successful venture – his first real taste of being an entrepreneur.
During his last year at Laurier, Chris decided to switch things up and start another venture – BuildMyLanyard.com. BuildMyLanyard.com focused on importing custom made lanyards for a large variety of customers such as Telus and TEDx.
One of Chris' first orders was from Laurier's business school and Prism resources. Receiving the packages days before the event Chris opened the boxes to find pink lanyards instead of the Laurier purple.  You can imagine how this went over…
At the present time, this was the single greatest failure in Chris' career as an entrepreneur.  All of Chris' classmates knew it was his product and made sure he knew that they SUCKED!
"After this I was pennies away from claiming bankruptcy, ready to drop-out, and close up my business.  This was truly one of the most embarrassing points in my career, but in hindsight these experiences are crucial to long-term success as an entrepreneur.  Failure builds thick skin and teaches you how to remove emotion from business and keep striving forward" – Chris Carmichael
Following this Chris decided to apply to the prestigious Queen's International Entrepreneurship Competition.  After writing an entire business plan in 17 straight hours to make the deadline Chris fell up short placing 18th, 2 short of making the final round.
A few weeks later while on a trip to San Francisco Chris received a phone call from one of the co-chairs informing him that 2 of the groups had dropped out and that BuildMyLanyard.com was in the finals in 2 days!  With the make it happen mindset Chris caught the next flight available and wrote his pitch and presentation on the plane home.  After a long 48 hours Chris ended up winning the Queens Entrepreneurship Competition and taking home the $15,000 grand prize!
Little did Chris know, the co-chair who convinced him to compete last minute ended up being his future co-founder for his next venture, Atendy.
Shortly after this Chris decided to drop out of Laurier and move to China for 7 months to learn more about his manufacturers and focus on building his business.  This was the turning point when Chris realized he had to jump in with both feet.
"School creates a great foundation of knowledge but to gain real-world experience you have to step outside and learn by doing!  I am thrilled to see the Laurier LaunchPad promoting exactly that – I wish the LaunchPad was available when I was starting my business in school!" – Chris Carmichael
Today Chris is back in the sink or swim environment building his third business Atendy.  Atendy offers the best in class event technology to help event organizers manage, promote, and engage atendys!
Atendy stemmed from personally experiencing the frustration of poor-contact management during conferences.  After identifying this problem and his new co-founder, Ahmad Iqbal, decided to start developing their first product – a QR scanning software to help you track everyone you met at an event.  After spending months building this product Chris' team launched and realized nobody wanted it – the result of no market research.
Do more than enough market research before you write a single line of code.  When you think you've done enough, do more.
Living in a sink or swim environment Chris quickly learnt the importance of working with customers to build a business that truly solves problems.  As a result Atendy has nailed their product-market fit acquiring big name clients such as Facebook and TEDx!
Try placing yourself in a sink or swim situation.  You'll be amazed how this alters your approach to business – you're in survival mode with a brain that's always alert to opportunities.  Fully immerse yourself in something you love and your vision clears up pretty quickly.
Author: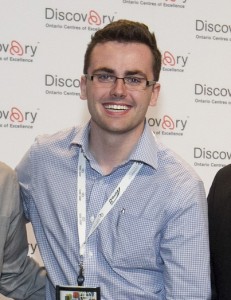 Dave Inglis
Entrepreneurship Community Coordinator