PumpUp – your personalized workout coach launches just in time for New Year's resolutions!
With the New Year among us people around the world are setting goals for 2013, many focused on improving fitness and health through an active lifestyle!  You can bet your IKEA monkey gyms everywhere will be packed for the month of January with the resolution rush.  Unfortunately, many people don't know what exercises will help them achieve their goals, resulting in a lack of motivation and decline in gym attendance.
So what are your options?  Well you could smash the piggy bank and fork out $60 an hour for a personal trainer, or you could download PumpUp – your personalized workout coach now available in the App Store on your iPhone and iPod touch!
By asking a few simple questions about your fitness goals, where you want to work out and the equipment you love to use, PumpUp automatically builds a high quality workout specifically for YOU! PumpUp shows users what to do, how to do it, and over time, adapts their plans to ensure they continue to improve.
After 8 months of hard work, PumpUp founders Phil Jacobson and Garrett Gottlieb have officially launched PumpUp to help you get a fitness routine started or push you to take your fitness to the next level just in time for the New Year!
"People aspire to be fit and live a healthy life but most people find difficulty in reaching their goals," says Phil Jacobson, Laurier Alumnus '12. "We're simplifying the experience by asking you what you want and taking care of the rest. Getting fit doesn't have to be tough; people just need to be shown what to do. With PumpUp, that's exactly what we're doing."
The PumpUp App is available as a free download on the Apple App Store on iPhone or iPod Touch at http://itunes.com/apps/pumpup. PumpUp is free to try for 30 days and costs $4.99/month on an annual subscription. To celebrate the launch and New Year, an annual subscription for PumpUp is only $2.99/month from December 2012 to January 2013.
Interested in learning more about how PumpUp can help you achieve your personal fitness goals in 2013?  Check out PumpUp online at www.PumpUp.co and follow Pat the PumpUp mascot on Twitter and Facebook!
Author: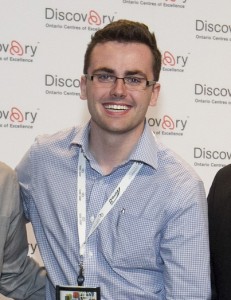 Dave Inglis
Entrepreneurship Community Coordinator
dinglis@wlu.ca