Meal In A Jar Hits Market Shelves in 90 Days
It was a mere 3 months ago 4th year Communications student, Carson Kolberg, was getting his hair cut passing time thinking about how he was going to create social impact and bring great food to the local community.  Having just entered the Laurier LaunchPad, Carson was truly at the idea stage – things were still rough around the edges.
As the barber was sweeping the floor Carson saw a clear mason jar full of food out of the corner of his eye.  It looked delicious.  "Is that a meal in a jar?  Where did you get that?" asked Carson.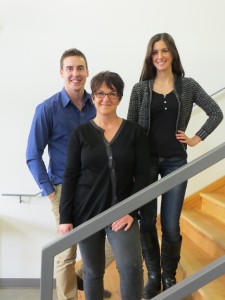 Little did he know that jar was put together by his future business partners, Irene and Georgina Divaris, and would soon be a product sought after by hundreds of locals.   With no hesitation Carson requested an introduction to the Meal In A Jar maker to share his passion for food and explore the possibilities of working together.
Irene Divaris has worked in the fitness industry for many years and has always been extremely conscious of her nutrition – however seemed to continuously struggle with packing lunches. Irene would commonly cook extra food at dinner to make lunches the following day and store them in mason jars to avoid creating any waste and simplify cleanup.  This worked great for her and Georgina on a small scale, but once the jars hit Facebook she knew she had something more than a trendy lunch box.
"After sharing a few photos of my Meal In A Jar they started to go viral!  I soon created a small Facebook page which had over 50 likes before I went to bed that night!" – says Irene Divaris
Today Irene, her daughter Georgina (an MBET student from UW), and Carson have formed an official partnership and incorporated Meal In A Jar!  Soon thereafter Meal In A Jar partnered with a purpose-built recreational cooking school, The Culinary Studio, to hand-craft their fresh meals with the quality of a professional chef.
Since going to market last month, Meal In A Jar now makes daily deliveries to local companies such as the Accelerator Center, Communitech, and even the legendary Vincenzo's!  They have also established distribution through various wellness centers and gyms in Oakville and Waterloo.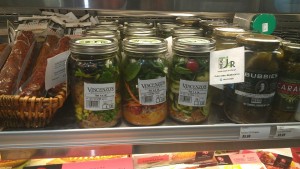 Staying true to Carson's original commitment to creating a social impact, Meal In A Jar offers fundraising opportunities to healthy active living communities!  If you're interested in learning more give them a shout!
Be present and get customer feedback first-hand!
Customer satisfaction is top priority day in and day out.  Since the day one almost every jar has been personally sold by one of the founding team members.  At this point in development the customer's input is essential to creating the best quality lunches to build a loyal customer base.  Without being on the front lines, getting this quality feedback would be next to impossible.
Logistics. Logistics. Logistics.
When you are transporting dozens of jars to local vendors every day the little things add up.  Now imagine hundreds…
For the next year Meal In A Jar will be focusing on scaling their meals across Southwestern Ontario into major cities such as Kitchener-Waterloo, Oakville, Downtown Toronto, and Guelph to name a few.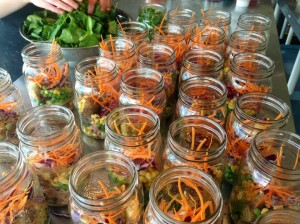 "After we nail down provincial distribution you'll see Meal In A Jar across the country.  We have an amazing 5 year plan for this business" – says Georgina Divaris
Coming to the end of the LaunchPad course term it's great to see another business take off.  Keep your eye on Meal In A Jar as they compete in local startup competitions such as the LaunchPad 50K and the OCE Discovery 2013 Experiential Learning Competition!
"Your first idea isn't always your best idea – however there is bound to be something in there to carry forward.  When building your own business establish relationships with everyone you meet.  Everyone has a story and you never know how you could possibly work together!" – Carson Kolberg
Connect with KW Meal In Jar and order your lunch through their website or follow them over Facebook and Twitter!
Author: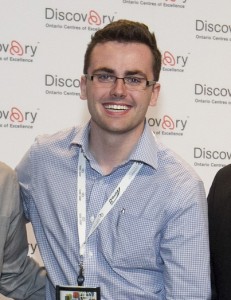 Dave Inglis
Entrepreneurship Community Coordinator