Laurier Startups Go Head to Head for $8000 in Prizes
When you mix a hungry entrepreneur with a great idea there isn't much that will stop them.  There is however a handle full of things that will propel them forward – feedback and money often quite appetizing…and poutine ofcourse.  As of late we've seen an entrepreneurship epidemic at Laurier with students from all different faculties creating amazing enterprises, many in the Laurier LaunchPad down at the Communitech Hub.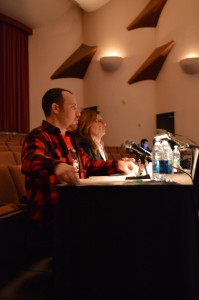 To help feed this entrepreneurial hunger the Laurier Innovation + Technology Club, Enactus Laurier, and Laurier Innovation + Entrepreneurship collaborate to run the annual Laurier Entrepreneurship Competition where student entrepreneurs pitch their businesses for $8000 in startup financing from the Nicol Foundation!
This year's competition was kicked off with a gravy keynote presentation from Laurier Alumnus and Smoke's Poutinerie Founder, Ryan Smolkin.  Starting things off with a great air guitar set, Ryan walked through the series of businesses he's built and how they all led him to follow his passion for food, starting Smoke's Poutinerie.
"The recipe for building a successful business is simple.  Hard-work, common-sense, and surrounding yourself with the right people to make it happen!" – Ryan Smolkin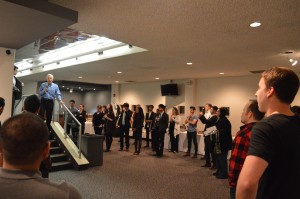 The competition started off with 30 teams, and after 2 rounds of judging the 5 most promising startups went head to head in the finals.  With 6 minutes on stage each entrepreneur pitched their business to a panel of prominent Laurier Alumni including: Ian McLean, Susan Cranston and Ryan Smolkin!  The finalists this year were a diverse group stemming from all different faculties including: 50/50 Delivery, Afr-I-Can Jewelry, Edgar Bauer Eyewear, The Smile Epidemic, and MyCareerCity.com.
After a hard fought battle the judges stepped aside to determine which three entrepreneurs would be going home with the cash prizes!  This year the $8000 in cash prizes was broken down so 1st place won $5000, 2nd place $2000, and 3rd place $1000!  After much anticipation the audience and competitors gathered in the Maureen Forrester Hall where LITC Executive, Abdu Zaghlol, and the Schlegel Center for Entrepreneurship Director, Steve Farlow announced this years winners.
Taking first place this year was chemistry major Katrina Shaw with Edgar Bruce Eyewear, a one for one social conscious enterprise disrupting the optical industry while bringing reading glasses to developing nations.  Placing second and third was Jim Moss from the Smile Epidemic and Ursula Kressibucher from the Afr-I-Can Jewelry, respectively!
1st Place: Katrina Shaw

Edgar Bruce Eyewear

2nd Place: Jim Moss

The Smile Epidemic

3rd Place: Ursula Kressibucher

Afr-I-Can Jewelry
Above and beyond the cash prizes each finalist walked away with $1500 in kind services from George Briggs Media to brand their businesses through video!  Thanks again to all of the competitors for participating, and a special thanks to Enactus Laurier and Laurier Innovation + Technology Club for making it happen!
Author: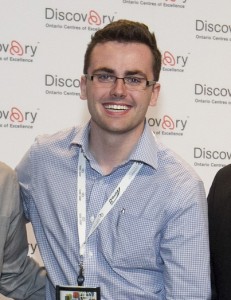 Dave Inglis
Entrepreneurship Community Coordinator