Laurier Alumni Reconnect to Build Startup After 20+ Combined Years in Corporate Sales
After 10 years at Lexmark, Laurier Alumnus Mark Elliott shook things up and joined a Canadian relocation and moving business.  As the General Manager Mark was left with the responsibility to make it happen and re-build the Allied International Toronto team.
Having kept in touch with his close university friend, Steve Gruber, Mark reached out to see if he'd be interested in joining Allied as the Director of Sales!  With little hesitation Steve jumped at the opportunity seeing this as a great opportunity to not only build a small business, but work with one of his closest friends from University!
As time went on Mark and Steve identified two things: 1) they were great at sales, and 2) the relocation and moving industry wasn't their cup of tea.
Knowing this, Mark and Steve began to search for an opportunity to create their own venture to employ the sales expertise they developed over the combined 20+ years working in large corporations sales.  After reconnecting with one of their professors from Laurier, Dr. Laurence Hewick, Steve and Mark identified a growing number of technology startups building incredible technology solving real-life problems, but many without a sales strategy in place to bring their products to market.
After testing their initial assumptions with a technology startup in the Hamilton Region, Mark and Steve confirmed a serious problem did exist within the technology startup sector.  Shortly after in 2006, VA Partners was born!
After discovering their initial target market it was time for Mark and Steve to roll up their sleeves and validate a repetitive and reliable business model.  To achieve this, VA Partners was focused on part-time sales for technology startups for the first three years in business.
"The initial stages of our business, where we were validating a repetitive and reliable business model, were the most challenging days to date. After a few pivots the biggest lesson we learned during this phase was to grow correctly and not out-pace your product or service.  In the initial days we worked exclusively with select clients to refine the VA Partners value proposition, best practices, our service methodology, and an effective lead generation tool to find new clients," says Mark Elliott.
After reaching this crucial milestone of problem-solution fit, VA Partners shifted their focus to scaling their business and building out the VA Partners team.  When searching for top talent to join the VA Partners team, Mark and Steve immediately returned to their alma mater, Laurier!
"The best thing about Laurier is the people, both your classmates and professors.  Having been a co-op student myself I knew first hand that Laurier students were graduating with a wealth of real life experience working in groups, delivering high impact presentations and working on multiple time lines; all things we needed!"
Currently 80% of the VA Partners team is Laurier Alumni, and growing!
Today, VA Partners offers startups and growing Canadian businesses part-time sales, marketing, and social media services to help growing companies quickly establish a strategic sales process, build a sales funnel of qualified leads and close deals quicker.  VA Partners also helps businesses learn how to leverage social media, CRM tools and develop marketing and content marketing strategies to make it happen!
If you're interested in joining the VA Partners team or learning more about how VA Partners can help your business develop a sales and marketing strategy, grow sales and close deals quicker, click here to start the conversation!
Author: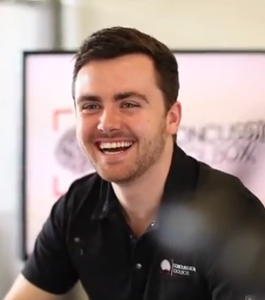 Dave Inglis
Entrepreneurship Community Coordinator