Judging the PepsiCo Pitch Competition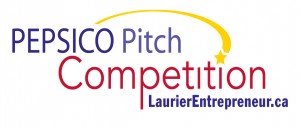 As a recent graduate of Wilfrid Laurier's BBA program, I've been lucky enough to experience a lot of the great entrepreneurial events, assignments, classes, and programs that the school has to offer from the perspective of a student. As a former BU121 Teaching Assistant, I also got to see what the first year entrepreneurship assignments were like from a different angle. But on Friday, March 8th I got the wonderful opportunity to experience entrepreneurship at Laurier as an alumni judge of the semi-finals at the PepsiCo Pitch Competition.
The PepsiCo Pitch Competition Recap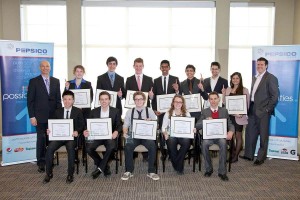 It all started with 84 students who gave their 2 minute elevator pitches to a judging panel of 7-8 people. These students were the best in their respective BU121 labs, which is what made it such an incredibly difficult process. Not only did each board see 14 students' pitches over the course of 2 hours, but we then had to select the top 2 from this talented group to send on to the finals.
The 12 finalists – pictured left – then proceeded to 1E1 (an extremely large and full theatre-style lecture hall), got wired with a microphone, and performed their pitch again for the live audience, the 5 finals judges, and a video camera.
The judges of the finals included:
After what seemed like hours of deliberation, the five judges finally emerged with the verdict. After entertaining and inspiring talks by David Chilton and Greg Overholt (pictured above), Laura Allen announced to the crowd that the top three pitches were… (drum roll please!)
My sincerest congratulations goes out to all of the first year students for making it through such a challenging assignment. I had a hard time when I did a pitch in my fourth year at Laurier, so I can only imagine what it would be like in first year. You all deserve a huge pat on the back.
The Pitch Tips We Learned
Pitching certainly is an art, and is something that takes a lot of practice (both successes and 'learning experiences'). It would only be fair to share the tips that were passed along at the event, so here they are!
Tip #1: Walk the Line
There is a very fine line between a good pitch and a pitch that is over-the-top. By this, I mean a pitch that is too "sales-y" or too theatrical or too suave. When you take these traits to the extreme your pitch comes off as insincere and overwhelming, which leads me to…
Tip #2: Gain Trust
People warm up to others that they feel are trustworthy. Although it's hard to build that trust in such a short time-frame, it's important in your pitch to do small things that will hint that you're a good person to do business with. Explain how you can help them and vice versa, talk about your track record of success, and use inviting body language such as squaring your shoulders to the audience, making eye contact, and of course SMILING! Keep in mind though that everybody trusts in a different way, so in that case…

Tip #3: Know your Audience
Different people want different things. Different people react to certain things in different ways. It's common sense, but what isn't always common sense is knowing how to understand your audience and what will work best for them. Males and females react to certain cues differently, so take that into consideration. Try to put yourself in your audience's shoes and piece together what their agenda is and how you can play into it. That being said, don't forget what your goals are and don't promise anything you can't deliver on. Which leads me to…
Tip #4: Stay True
Even if you might be an excellent actor and can fool your audience into believing you're sincere, it's important for you to follow this tip. Investments are important, sales are important, and winning a competition amongst your classmates is certainly important; but none of these come close to how important it is to maintain your integrity. Sure it might be outside of your comfort zone, but let your body move and your tone of voice fluctuate based on what's natural to you. Even an untrained eye is good at spotting when something is forced. Not only will you feel better about your pitch, but you'll also be able to make better use of any feedback or response you received for next time.
A pitch is never perfected; it is tweaked and nurtured and delivered in a different way every single time. These first year students deserve a great amount of commendation for starting so well out of the gate and at such a young age. Bravo!