How to Build a Winning Startup Team
No matter what type of business you are starting, what matters most are the people you bring on board to execute your vision.  In a typical business, shared passion and dedication are important. But in a startup, it's crucial. But how can you be certain someone is the right fit? Is there a magic formula? Or do you simply follow your gut instinct?
Laurier Alumnus ('05) and serial entrepreneur, Mike Stark, believes it's a bit of both – treat the process like dating!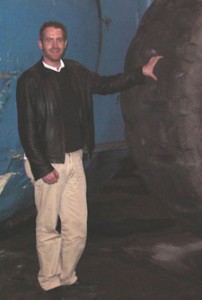 After graduating Honours Computer Science, Mike decided to steer away from the beaten trail and pursue a career in entrepreneurship.  Right out of school Mike founded Control TPMS (2005) to commercialize a real-time tire pressure monitoring solution he invented, Stark Designs (2009), an independent web design and development consulting company, and Key Systems Canada (2010), an import sales and service company helping large organizations efficiently protect their most valued assets.
Most recently, Mike joined a local startup, Webotics Inc., as their technical co-founder, CTO.  Since then Mike has been working around the clock to launch their new real-time online dating platform – DateOnfire.
DateOnfire helps you get to the heart of online dating in a fast, fun, and free way. By playing scientifically developed games, DateOnfire learns about you and introduces you to the right people!  DateOnfire is the first to incorporate gamification into online dating, disrupting the traditional user-experience!  Infact, DateOnfire awards users with date coupons to bridge the gap between online and the real-world, drastically increasing engagement and authenticity (Check out their CEO Anton Polski recently pitch on BNN's The Pitch)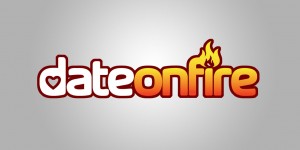 After starting a handful of ventures and exploring the online dating space, Mike realized there was a lot of symmetries between dating and building the founding team of a startup.  Here's a few tips to finding your better half to execute a startup.
1. Self Awareness – take an inventory of your strengths and weaknesses
Before you start looking high and dry for people to build your team you MUST take an inventory of your skill sets.  What are you great at?  What do you love to do?
Albeit this step takes the most time and effort, it plays an integral role in identifying exactly who you need to hire – so do it accurately.  Doing this right the first time directly affects your chances of success in a startup.
It's also important to spend time evaluating what is not your forte – what do you despise doing?
After taking an inventory reflect on what role you want to play within your company.  Are you the leader, the developer, the designer, or business and marketing?  Due to the work load clear role definition can be challenging in startups, but should be done from the get go.
2. Find someone who compliments your talents
After taking inventory of your skills and identifying the role you'd like to play, its time to identify your gaps. This isn't a process you brainstorm in your head.  Write out the specific skill sets you are filling to clearly define on paper what you are looking for.  This creates a strong foundation for you to make reference to as you search and ensure you are selecting people with the right talents.
Building your team should be a highly selective process.  An ok idea with a dream team has a much greater potential for success compared to a great idea with an average team.  Startups are all about execution.
Once you've identified a core team, your next focus should be assembling an advisory board.  For many entrepreneurs an advisory board brings credibility and a wealth of industry expertise.  Finding advisory board members with deep roots in your domain and experience building their own venture helps your team maintain a sharp focus and is often quite attractive to prospect investors!
3. Help develop a partner into your architecture
After completely assembling the team behind your vision you have to build an inter-dependent team.  The goal of this is to empower everyone to have a sense of direct involvement and ownership in the vision.
"Everybody has great ideas, but in a startup it's very easy to get tunnel vision and lose perspective.  External viewpoints are a great way to shed new light on existing problems.  You'd be amazed how creative a developer can be in a business meeting" – Mike Stark
Much like a marriage, relationships aren't built over night.  A key step missed when running a startup is taking an interest and committing to your teams personal development goals.  Allotting time to pursue individual goals is an investment that will pay off dividends.  A hackathon is a great way to work on side projects and develop skills your not good at – as a team!
Lastly, if you're a serial entrepreneur like Mike and you reach success with one particular team – stick with them! After doing it once or twice you realize how difficult it really is to assemble a high-performance team.
We're proud to say Mike is coming back to Laurier this January as an Alumni mentor to the new LaunchPad cohort.  Any questions about code, user design, or new venture creation – Mike is a go to guy.
If you're interested in checking out DateOnfire? Check them out online and follow them on Facebook and Twitter!
Author: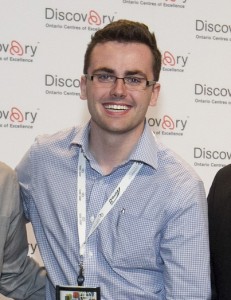 Dave Inglis
Entrepreneurship Community Coordinator
dinglis@wlu.ca