Don't Just Focus On Keeping Talent, Optimize It!
This week the University of Waterloo hosted the first annual Leadership Innovation Conference, at the Mike & Ophelia Lazaridis Quantum-Nano Centre, to bring together thought leaders in economic development to discuss how Canada can fostering innovation to catalyze change.
Waterloo Region has become widely recognized as "Canada's most important tech cluster", making Waterloo a suitable location to discuss innovative ways to support synergies between academia and entrepreneurialism.
With prominent keynote speakers attending such as Ontario Premier Kathleen Wynne, and BlackBerry co-founder Mike Lazaridis, this invite-only conference brought together industry leading delegates hungry to make it happen.
A common theme of discussion throughout the conference was focused on how our region can keep top talent from leaving for opportunities cross-border.  Immediate solutions such as improving transportation and further developing our nightlife and community culture sparked great enthusiasm.
The goal is not to discourage startups from taking opportunities in regions such as Silicon Valley, but to create an eco-system and culture that will entice them to return!  Companies such as Thalmic Labs, Vidyard, and BufferBox are great examples of startups who have visited Silicon Valley and returned home to continue their growth and drop anchor.  Our job as a community is to give companies the best options and enable them to make the decisions best for their businesses.
Aside from trying to keep human capital within Canada, enlightening discussions about how to build and optimize talent came to the forefront.  The key to cultivating this talent is to not focus solely on academic skills, but stress the importance of developing soft-skills through experiential learning opportunities.  Our LaunchPad Program was recognized as a great example; every student at Laurier hs the opportunity to experience entrepreneurship.
Once you build talent and convince it to stay local, then what? Optimize.
In an industry where the majority of operating costs stem from human capital, why not focus on helping your employees reach their full potential?  Companies need to take responsibility for personal development and provide continuing education and individualized mentorship.
This is no secret to the Smile Epidemic, a Laurier LaunchPad startup who had the opportunity to share their secret sauce at the Leadership Innovation Conference!
"The Smile Epidemic uses a SaaS platform to help organizations optimize their human capital by focusing on improving their psychological well being.  We help employees to perform at their best more frequently," says Jim Moss – Chief Happiness Officer
Put 2 and 2 together and you can see how focusing on this would benefit the bottom line.
Smile Epidemic will start delivering their B2B service in September 2013 to companies around the world, in 16 countries and 4 languages!  If you're interested in optimizing your talent don't hesitate to reach out!
Oh, and if you're wondering…Smile Epidemic is staying local and calling Kitchener-Waterloo home for their business.
Overall, the Leadership Innovation Conference was a huge success and confirmed Canada's most important tech cluster is on track to be the best in the world!  Lets #makeithappen.
Author: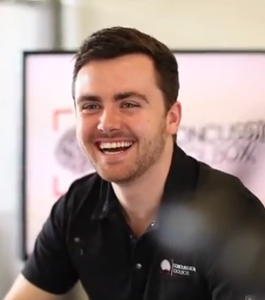 Dave Inglis
Entrepreneurship Community Coordinator