Don't Forget to Stop and Smell the Roses
For some, it's the ability to work all day in their PJ's.  For others, it's the pure rush of being able to create something from nothing.  Ask any founder what the best part of entrepreneurship is and you're bound to hear a variety of answers – ultimate creativity, the thrill of disruption, or the chance to solve problems for something you're passionate about.
In one of our recent blogs we highlighted some of the lessons our student entrepreneurs have learned from building their first venture – many suggesting that a career as an entrepreneur isn't all blue skies, but in fact a roller-coaster ride.
Regardless of the career you choose, each has their 'ups' and 'downs', it is inevitable! This week, however, I'd like to focus on the ups – the best parts of being an entrepreneur.  If you ask me, nothing can quite compare to the feeling you get every morning knowing you are working on something you love.  Achieving this naturally sparks curiosity, a quality Laurier Alumnus, Dave Chilton, believes is the foundation to long-term happiness.   The Laurier LaunchPad is a one-of-a-kind experiential learning opportunity where we aim to cultivate this state of curiosity in combination with the tools to turn ideas into successful enterprises!
Motivation, passion and perspective are forever changing, but today, enterprises in the Laurier LaunchPad program decided to stop and smell the roses to reflect on what they believe is the best part of being an entrepreneur.
The Best Part About Being An Entrepreneur
For me, it is the ability to put everything I have into something that I believe in with all of my heart. Having other people believe in you and your project is also wonderful and I am learning that attracting rockstars and giving them everything that they need to be their best is extremely fulfilling as well.
Jim Moss – The Smile Epidemic
I like the fact that I get to be creative – there is always an answer. The question is how hard are you willing to search for it.
Madusha Cooray – Cinnux Inc.
I believe that the best thing about being an entrepreneur is all of the talented and ambitious people you get to meet who share your vision. You get to surround yourself with great energy. Every day is a challenge, but every step you move forward is a reward.  I love learning and being inspired by others – being an entrepreneur has let me do just that!
Ann (Chen) Hascalovitz – Bey Leaf Productions
For me, it's about exploring uncharted territory and having others believe in your vision, to join the journey and unlock the value for customers, the team, and investors.
Saravana Rajan – Viskar Inc.
Entrepreneurship gives me the ultimate freedom to have an impact in the world and to change the lives of millions. Making millions comes secondary to helping millions and there is nothing in life more rewarding than being able to help people – entrepreneurship allows me to do so at a massive scale.
Eugene Osei – MyCareerCity.com
It's all about finding that thing that you really love that's going to make you lose sleep over.  I love that it doesn't feel like work, it should be like you're solving a problem that you're passionate about.
Alexander Marshall – George Briggs Media
The best part of entrepreneurship is to be able to take an idea and execute it with talented people. You get to see the idea evolve and improve as you have more people work and interact with it. The idea becomes special as more people understand and relate to what you are trying to achieve.
Joseph Puopolo – Printchomp
The thrill of seeing something that you've created become reality, its pretty amazing. What I really love about being an entrepreneur is having the ability to see a problem, and being able to find a way to solve it in a new and exciting way.
Jake Kotzer – First Interview
The best part of watching entrepreneurs work on their startups is the excitement and passion each of them wear on their sleeves.  When talking with any entrepreneur, it's obvious that they love what they're working on.  This is why the community at Communitech is so amazing – you're always surrounded by exceptional people chasing something they love.  To achieve greatness, you have to love what you do – wouldn't you agree?
Your work is going to fill a large part of your life, and the only way to be truly satisfied is to do what you believe is great work. And the only way to do great work is to love what you do.   Steve Jobs
Author: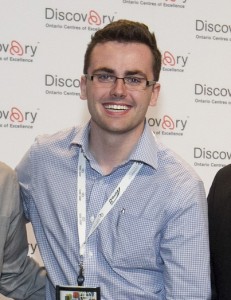 Dave Inglis
 Entrepreneurship Community Coordinator
@dave_inglis
dinglis@wlu.ca