Concussion Toolbox: One Concussion Changes the Way Millions of Others Are Proactively Managed
I'll never forget the day my hockey career came to an end; well…I can barely remember it to tell you the truth.  Seven years ago I got my bell rung during a hockey game, and woke up the next day to what I thought was a headache – a result of a good hockey game.   Not knowing I had experienced a concussion I returned to the ice days later for another game – little did I know this was going to be my last game of hockey, and that I'd be going home in an ambulance after receiving a second concussion within a weeks time.

Today we fully understand the cumulative nature of concussions, and how important it is to identify and properly manage a brain injury from day one to avoid long-term symptoms.  However, due to the lack of financial and human resources available, young athletes generally don't have access to professionals to proactively conduct baseline testing to help identify when an athlete experienced a       concussions.
After my personal experience with concussions, and involvement in the Wilfrid Laurier concussion research community, I discovered a passion to create change in the concussion community across the world. The Concussion Toolbox aims to change the way concussions are proactively managed by using technology to enable a larger number of athletes the ability to do baseline testing before their season begins.
The Concussion Toolbox enhances an open-source standardized test, formally recognized as the Sport Concussion Assessment Tool (SCAT2), so that parents, coaches, and fellow athletes can proactively collect baseline data without a trainer present.  We offer this on a mobile tablet so that assessments can be conducted on the sidelines, dressing room, or in your own home.
If a brain injury is suspected users conduct a post-injury assessment and export this data through our online directory of local professionals who specialize in concussion management.
Our initiative has three main missions:
1) To educate parents and athletes on the value of proactively capturing a baseline assessment;
2) To provide therapists with more evidence when making a return to play decision;
3) To connect injured athletes with professional in their area who specialize in concussion management for optimal return to play management.
Throughout the Laurier Entrepreneurship Accelerator program here at Laurier, I was able prove my business concept, discover the team required to build my business, and accelerate the development of my business plan thanks to exceptional resources made available from program partners such as Adventus Research, BDO, Gowlings, and Brandtannery.
The Laurier Entrepreneurship Acclerator program helped me create a great pitch deck, and more than prepared me to begin entering business plan competitions to pitch my business to potential investors.  As a result the Concussion Toolbox won the Ontario Centre of Excellence Experiential Learning Competition, raising $25,000 in seed funding, and placed 2nd at Laurier Entrepreneurship competition.
Today we are still working out of the Laurier Sandbox at Communitech.  We are currently in the midst of product development – with our first beta product ready for testing and user feedback at the end of August 2012.
If you are interested in getting involved with the Concussion Toolbox, or would like to provide mentorship or contacts, please contact President & CEO, Dave Inglis at d.inglis@theconcussiontoolbox.com.
Author: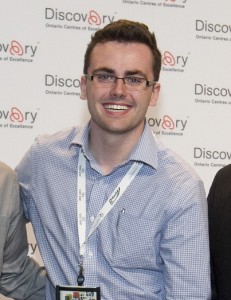 Dave Inglis
Founder & CEO
d.inglis@theconcussiontoolbox.com