Business Leader Turns to Laurier to Change the World
After revitalizing 4 nearly bankrupt companies and successfully  integrating them into one thriving organization, Kelly Murumets sought change.  No, Kelly wasn't simply looking for a new organization to run or consulting project – she wanted to change the world.
Having lived in the fast lane and accomplished a great deal of success in business, Kelly decided to stop the car and take some personal time to explore and rediscover her passions.  Whilst summiting Mount Kilimanjaro, skiing waist deep powder, or scuba diving to deep coral Kelly identified one constant – her work had to leave a legacy.
Kelly has never been too fond of "should dos".  After consulting for a few years following her MBA, Kelly decided to take a few months off to travel the world.  Upon her return you would assume Kelly would jump right back into business, but how original is that?  This in mind Kelly decided to return to the classroom and compliment her MBA with a Masters in Social Work.  This unconventional dream led Kelly to her new home, Wilfrid Laurier University.
"There was something about the people at Laurier I recognized from the moment I stepped on campus.  The intimate yet world-class community at Laurier felt like home immediately." – Kelly Murumets
Kelly's time at Laurier was truly remarkable and upon graduation was recognized with the Governor General's Academic Medal and the Laurier Gold Medal for academic excellence!
Since then Kelly has been the president of a publicly traded U.S. telecommunications company and is now the CEO of ParticipACTION, the national voice of physical activity and sport participation in Canada.  Well on track for leaving her legacy, not only is Kelly leading a brilliant team at ParticipACTION, but a national movement to help millions become more active to ultimately live longer and healthier lives.
After climbing a handful of mountains we caught up with Kelly to ask what she thought was the secret to achieving sustainable success.  Kelly's answer was simple – build authentic relationships.
Lead with your team
As a leader it is your responsibility to own the vision of your organization.  Establishing authentic relationships with every member on your team enables you to pull everyone on board and create a shared sense of ownership in your vision.
Great leaders have a strong sense of self-awareness and identify gaps within their own skill sets.  Show your team you rely on them for their areas of expertise.  Authentic relationships are a product of immense trust.
Build a mentor relationship that is mutually beneficial
Every career change for Kelly has been catalyzed by one of her mentors, many of who have become life long friends.  For anyone looking to rapidly progress and overcome big challenges, a mentor is an essential ingredient to success.
Quite often entrepreneurs are under-qualified for the shoes they fill.  Having a mentor who has been there done that is an invaluable resource to guide you through difficult decisions or new territories.  However, to create an authentic and long lasting mentor relationship it has to benefit both the mentor and the mentee.  A mentor is not your personal coach
As you begin to progress through your career it is important to change roles and become a mentor for others!  Today Kelly is now a mentor for young professionals at Girl Impact and various universities across Canada.  Building these authentic relationships is an ongoing effort and should never be sacrificed if you desire sustainable success.
Always bring your authentic self to the table
When it comes down to it, if you want to build sustainable success it all starts and ends with you.  Yes, that's right, you!
Experiencing moments of discomfort, exhilaration, failure, and success throughout your career is inevitable.  Understanding this speaks to the importance of always bringing integrity and your true character to the table.  As an entrepreneur and business leader create your brand, a brand that is honest, passionate, trustworthy, and unforgettable. Make your brand one people want to partner with.
Looking back Kelly recognizes her experience at Laurier was nothing short of exceptional.
"Laurier's pursuit for excellence pushed me to experience things outside of my norms, yet always respected and appreciated my different viewpoints.  The people at Laurier have left a lasting impression on me and inspired me to change the world.  Lets get moving!"
Author: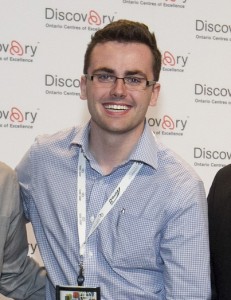 Dave Inglis
Entrepreneurship Community Coordinator