BBA Co-op Grad Turns Serial Technology Entrepreneur
When applying to the Co-op Business Program at Laurier, Travis Schneider had no idea he was destined to become a serial technology entrepreneur.
Travis discovered an internal drive to create his own enterprise while at Laurier, however wasn't sure where to begin. With this in mind, Travis decided to create and operate his own landscape company, rather than pursuing a traditional co-op placement!
After this, Travis sought after a unique co-op experience, leading him to work for Siemens in Berlin for his second placement, and again with Siemens in San Diego for his third.
"During my third co-op term in San Diego I fell in love with the experience of California living.  I knew I'd be back." – Travis Schneider
Soon recognized for his commitment to entrepreneurship, Travis was awarded the KPMG entrepreneurship award two years in a row!
It's obvious Travis caught the entrepreneurship bug during these co-op experiences, and was hungry to make it happen.  After returning from San Diego, Travis initiated ideation mode until one night when he was watching the movie Spy Game.
"While watching the movie the sunglasses the main character was wearing caught my eye.  I had to have them, but had no idea what brand they were, or where I could pick up a pair," said Travis.
This personal problem catalyzed Travis into a stage of discovery where he began connecting with others interested in pop-culture and celebrities to test if they experienced the same problems.  Through this process Travis identified brands were paying big bucks to have their products featured front and center in the films.  The opportunity was obvious to Travis: the dots simply weren't connected.  There was no simple vehicle for consumers to purchase the products they loved, or for brands to drive ROI from their marketing dollars!
After gaining these insights Travis began conceptualizing how he could solve this problem for both the consumers, and the brands. With a proposed solution and execution plan in hand Travis hustled to raise his first seed round and formally create his first startup, Star Brand.  Soon after raising his first round of financing, Travis packed his bags, filled the car, and headed to the new Star Brand headquarters: Malibu, California. With little to no contacts out West, it was show time.
"If you're serious about creating your own venture you must dive in with both feet.  I could've stayed in Ontario and tried to sell Star Brand over emails and the phone, but face-to-face presents the opportunity to establish a real relationship with customers.  Mine just happened to be in South California!"
After being in Malibu for a few weeks, Travis landed his first customer, Showtime Network, to prove his initial concept.  From there Star Brand took off, quickly securing Warner Brothers as an official partner for all of their productions.
Star Brand was quickly recognized as a win-win-win solution for the entertainment companies, product brands, and consumers!  Now on the radar of some of the industry leaders in content creation, Sugar Inc., a Sequoia backed venture partly owned by NBC universal, acquired Star Brand.
WOW, what a great story and exit, right?  There's more…
After helping Sugar Inc. with the transition for a year, Travis was eager to get back into the startup scene and left Sugar Inc. to create his second venture, Shop Nation.
While at Sugar Inc., Travis recognized traditional media companies were facing serious challenges.  Due to the recent technology boom, fewer and fewer people were reading magazines, and advertising dollars were quickly shifting online.
As a result traditional media companies were starting to create websites for each magazine yet lacked the know-how to monetize their web-traffic.  This problem was music to Travis' ears.
After sizing the market opportunity, Shop Nation built a white-label tool for traditional media companies to sell the featured products in their publications online.  Again, Travis created a win-win-win solution helping media companies open new revenue channels, brands drive more sales, all while enabling consumers to have greater access to the products they loved!
To make a long story short Travis aggressively pursued business development after the technology was assembled.  After securing partnerships with several prominent publishers, Shop Nation was once again recognized as an industry leader and was acquired by Meredith Inc.; arguably North America's largest traditional media powerhouse.
Today Travis is still working with Meredith Inc., leading the launch of their e-commerce shopping experiences across the web, tablets, mobile, and print magazine integrations.
When asked to reflect on his experience, Travis identified a few key variables that contributed to his success as a young entrepreneur.


Use your youth to your advantage.
Just jump in.  You are young and naïve enough to have the confidence to start something without over-thinking it.  A lot of partners along the way enjoyed investing in my success as a young and hungry entrepreneur.


Always find advisors who know your space or lend credibility to your project.
Although your youth can work towards your advantage, one of the biggest limitations as a young entrepreneur is lack of domain expertise and network depth.  By identifying world-class advisors who know your space or can lend credibility to your project, your chance of success is much greater.  Whether it's picking up the phone to link you with industry connections or simply providing advice, great advisors play an instrumental role in making it happen.


Be honest about where your business is at, and be prepared to pivot and adapt when appropriate.
Although instinctively you may want to appear further developed than you are, being candid about the current development of your business is the key to obtaining relevant and meaningful advice.  This transparent and honest approach proves to be a huge asset.  Effectively communicating this to your advisors and team builds an immense amount of trust and accountability; both critical to your success as an early stage venture.
Author: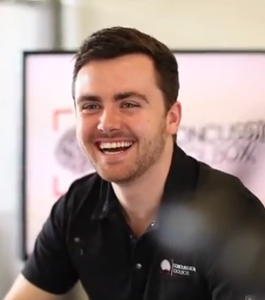 Dave Inglis
Entrepreneurship Community Coordinator